Activities
We have a selection of
exclusive activities ideal for
medium to large groups
#workhard #playhard
Daft
Music Studios
Discover Daft Music Studios: our impressive music recording hall adjacent to the hotel. Many (inter)national artists record their albums here (e.g Sigala, Henri PFR, Goose, Bazart, Stephen Malkmus & the Jigs, Universal France, Daan, Jef Neve, De Mens, Blanche, Hooverphonic, …).
Step into the footsteps of legends and create your special event at Daft Music Studios!
We've developed some unique team building activities in our Nirvana on earth.
Backstage Tour
Get a look behind the scenes and become a Daft Music Studios insider. Discover some spicy stories about our gear: from vintage piano's, mics and amps, to topnotch contemporary synths.
Who recorded here? How does it work?
During a 1-hour tour, we indulge you in the recording process and our wall of fame.
Acoustic Session
See your favorite artist playing songs you like in an intimate setting.
A real and raw experience that will leave a lasting impression.
From campfire acoustic sessions to full band shows… we tailor your needs!
Sonic
Branding
Workshop
Wonder what your brand sounds like?
Give your brand a signature sound, an original sound effect… a sound layer to enforce your brand's identity. We'll study your brand book in advance and guide you – during a team workshop – through the process, to create your very own sonic brand demo.
Fun … and worth the investment as well for a more effective marketing strategy.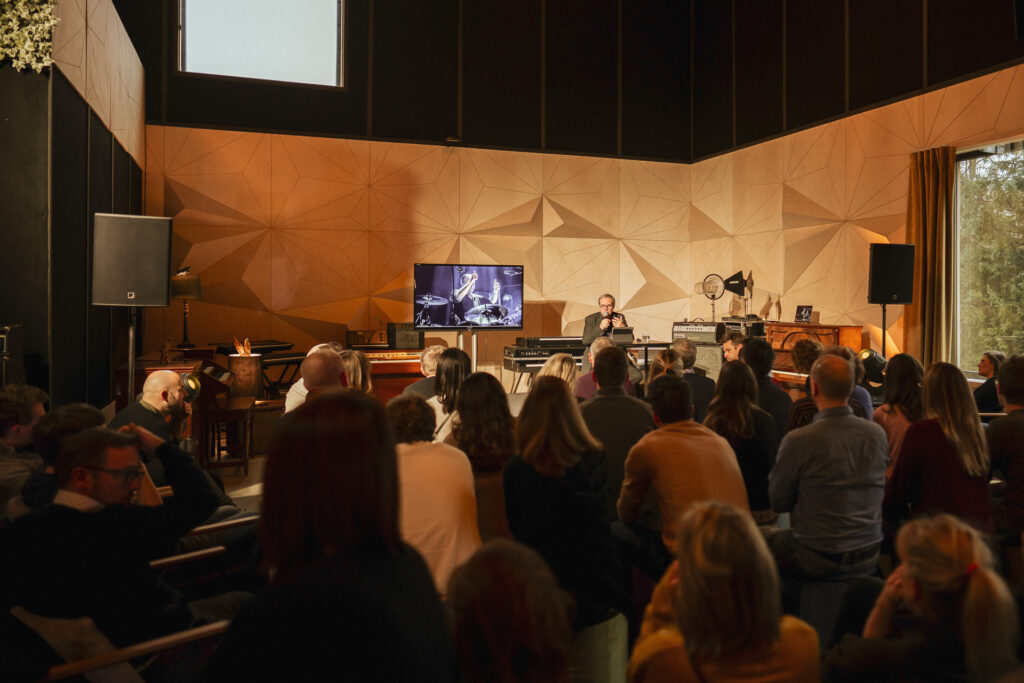 Inspiration Sessions
We invite a music industry professional to inspire your team, combining content and entertainment.
What's the drive for an artist to become one? What are their intimate thoughts? How do they build up their work and network? Where do they get the optimism to go on, even if it's a tough choice to live as an artist?
Get infected by artists' passion and go home with a bunch of new energy!
Partner Activities
In the beautiful region
of the High Fens
In the deep end of the ardennes there are a lot of great activities!
Below you will find a selection of teambuildings we can arrange for you with our partners.
Want more info or advice on which activity suits your group best?